About Dana Wilson Home Inspection Services
Dana Wilson, founder and president of Dana Wilson Home Inspection Services LLC was born and raised in New England and has been involved in the building industry for as long as he can imagine.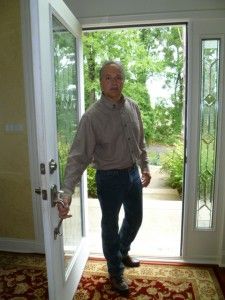 Dana Wilson, Founder and President of Dana Wilson Home Inspection Services.He brings solid skills to the table not only as a home inspector and builder but also as a former licensed real estate agent, which really helps future home owners and their agents who hire Dana to inspect property before signing the purchase and sale agreement.
Beginning in his early teens, Dana played an integral role in helping to manage complex projects for his family's construction business.In addition, Dana has experience and knowledge in the design, repair and replacement of septic systems.
With over 20,000 home inspections completed since 1994, Dana Wilson Home Inspection Services LLC continues to be the most highly sought after choice for real estate agents and their clients who only want the best in home inspection services.
Dana Wilson is a licensed, certified master home inspector in the state of Massachusetts, is Nachi/Ashi certified, and holds certification from the D.E.P. (radon – Environmental Protection) and the Department of Agriculture.
Additional Credentials
Experience as an approved Instructor for real estate agent continuing education classes in Pennsylvania 1994-2013.
Masters Certification in recognition for excellence in running his inspection business
Has completed over 20,000 home inspections
Taught/trained home inspectors for the past 20 years.
Selected by Senator Jim Ferlo and Mayor Luke Ravenstahl to build a state of the art "green" community services building, The EECO building, for the city of Pittsburgh.
Appeared in numerous TV spots and has played an integral role in programs such as "Building Dreams" and "Trading Spaces"
Dana knows homes inside and out, including every style house and every single component whether installing, repairing or replacing that component.
Dana is a patient and friendly home inspector. He will take the time to educate customers by explaining the inner workings of homes to his customers in the midst of the real estate purchase process. "It's easy to get caught in the trap of basing the home purchase on emotion instead of logic," Dana says. A home inspection by a certified master professional gives the buyer an unbiased, highly professional view of the condition of the home it's components and systems. That is good for home buyers looking for home inspection guidance, peace of mind and an understanding of what will most likely be the largest purchase they will ever make.